Valuing a Presidential Library
In recent issues of The Book Collector we published three remarkable articles by John Payne, the man who was appointed to value the Nixon presidential archive, in which he set out the criteria central to the valuation of any presidential archive.
With a presidential election now only days away, it seems to us at The Book Collector that these articles, which are the only treatment of the subject that exists, should have a wider currency.
There is no charge for downloading this pdf.
Please feel free to circulate it to friends and colleagues.
---
The Book Collector Socks
Luxuriously cosy Book Collector Socks, made in England by The Almost Unwearoutable Sock Company 60% cotton (for comfort), 35% polyamide (for strength), 5% lycra (for fit)
Three sizes available: M, L, XL inc. delivery
Add to Cart £12 (includes delivery to the UK)
Add to Cart $18 (includes delivery to ROW)
---
Women's Special Edition (Spring 2019 Issue)
208 pages with 25 illustrations
You Can't Do it Alone Lisa Baskin
The Ballerina and the Book Moira Goff
Alchemy in Britain Anke Timmermann
The Duchess Anna Amalia Library in Weimar Silke Lohmann
plus six more brilliant articles plus book reviews, auction prices and book chat
---
Polar Special Edition (Autumn 2018 Issue)
256 pages with 21 Illustrations.
The Arctic Narratives of John Murray, Publisher to the Admiralty Anne Peale
Frankenstein Sammy Jay
Scribes in Ice and Darkness Fergus Fleming
And much more…
---
Ian Fleming Special Edition
In 1952, the year he wrote Casino Royale, Ian Fleming launched a quarterly periodical for bibliophiles: The Book Collector. Published originally by Queen Anne Press it was soon hailed as the most important journal of its kind in the world. Still flourishing today, it is now under the management of his nephews James and Fergus Fleming. In 2017 it marked the 65th anniversary of its birth with an issue devoted to Ian's role in the world of books. This is still available as follows:
IAN FLEMING: THE BOOK COLLECTOR Edited by James Fergusson [The Book Collector Volume 66 No. 1, March 2017]: 288pp, 40 illustrations, post free.
---
Collector's Editions
THE TEN MAIN articles have also been reprinted in hot-metal Monotype letterpress on 150gsm Bockingford White paper and bound by Ludlow Bookbinders.
Both editions will be signed by James and Fergus Fleming.
Ian Fleming: The Book Collector A limitation of 150 copies numbered 001-150 bound in red cloth with gold blocking. (SOLD OUT)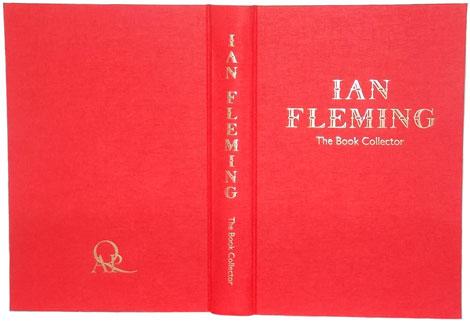 Add to Cart £150 SOLD OUT 
---
Ian Fleming: The Book Collector A limitation of 27 copies half-bound in black cloth on marbled paper and lettered A-Z, with the inclusion of an extra symbol - 'lol' - following a reprisal of Fleming's 1947 competition in Alphabet & Image to find the best 27th letter of the alphabet. Each copy contains, in a pocket, a facsimile of the 1957 promotional leaflet for The Book Collector written by Fleming and designed by his friend Robert Harling.
All copies have been pre-ordered.
---
Ten pamphlets bound in black 'softy' card with letterpress labels, limited variously to 60 and 125 copies as follows:
My Uncle Ian by James Fleming
4pp text, limitation 125. A personal reflection by the author on his father and his uncle. A unique memoir.
Add to Cart £30
Ian Fleming and The Book Collector by Fergus Fleming
28pp text, limitation 125. The story of how Fleming acquired The Book Collector and his subsequent battles with fellow directors. A poignant account containing archive material.
Add to Cart £30
The Death of the Doctor: Ian Fleming Intervenes by James Fergusson
11pp text, limitation 60. An interlude that examines Fleming's brief editorial role at The Book Collector and how members of the book-dealing fraternity may have been connected to the Secret Service.
Add to Cart £20
Books That Had Started Something by Joel Silver
26pp text, limitation 60. An authoritative and important description of how Fleming's library of first editions, as well as his correspondence and the Bond manuscripts, was acquired by the Lilly Library at Bloomington University of Indiana.
Add to Cart £30
Percy Muir: Ian Fleming's Book Dealer by Nicolas Barker
13pp text, limitation 60. An encapsulation of Ian's friendship with Percy Muir, the man who first encouraged his interest in books and who was instrumental in creating his collection. As related by Nicolas Barker who not only knew both Fleming and Muir but owned and edited The Book Collector from 1965 to 2016.
Add to Cart £25
Friendship and Fiction: Ian Fleming and Robert Harling by A.S.G Edwards
10pp text, limitation 60. The interaction between Fleming and his designer/typographer friend Harling and a description of the latter's career as a fiction writer.
Add to Cart £25
James Bond Invades America: A Tale of Three Publishers by John Cork
10pp text, limitation 60. An intriguing account of how Fleming's novels broke into the US market.
Add to Cart £25
Collecting Ian Fleming: The Making of a Bibliography by Jon Gilbert
7pp text, limitation 60. A life devoted to collecting Bond as recounted by the prize-winning author of Ian Fleming: The Bibliography.
Add to Cart £25 SOLD OUT
Dust-jacket by Richard Chopping... by Mirjam M. Foot
5pp text plus colour plate, limitation 60. An overview of Fleming's dust jackets that examines in particular Chopping's trompe l'oeil image image for You Only Live Twice, 1964.
Add to Cart £20
Two Bond Collectors by Sheila Markham
12 pp text, limitation 125. Sheila's finely-written interviews have graced The Book Collector for many years. Here she speaks to two very different Fleming fans: Jeremy Miles and Mike Van Blaricum.
Add to Cart £25
The pamphlets are also available as a collection, housed in solander boxes of which there are 22 only. Of these two have already been spoken for. Should you be interested in the remaining solanders then please contact Adrian Harrington Books www.adrianharringtonbooks.co.uk
---
Richard Garnett: Rupert Hart-Davis Limited, a Brief History with a Checklist of Publications. 2004, 96pp, wrappers, postage included.
---
To Bernard Breslauer on the Centenary of the Firm of Martin Breslauer. Tributes from Nicolas Barker and eleven others. 1998, c. 48pp in wrappers, postage included.
---
Back Issues (print)
We always keep copies from the two most recent years in stock. These are available at £15 ($30) each, including postage, airmail where appropriate. At present we also retain stock going back to 1970 at £5 ($10) each plus postage. It's unlikely we'll continue doing so in 2018 since the texts are available in their entirety online.
Back Issues (digital)
Subscribers will find online all issues of Book Handbook (1947 through 1951) and its successor, The Book Collector, from 1952 onwards. These have been uploaded in the form in which they were printed. Subscribers are free to print, copy and download them. Those wishing to excerpt passages for quotation in the public domain must refer to the copyright section at the foot of this page.
Subscribers click here to browse digital backlist.